On the Town reports on recent literary events happening in and around Hamilton.
Danko Jones book launch at This Ain't Hollywood
On Wednesday, September 5, 2018, vocalist/guitarist for his eponymous Canadian rock trio Danko Jones launched his book I've Got Something to Say at This Ain't Hollywood on James Street North in downtown Hamilton.
Danko was in conversation with Stuart Berman, contributor at Pitchfork and author of Too Much Trouble: A Very Oral History of Danko Jones, followed by audience Q&A and book signing.
Pictures courtesy: Jen Rawlinson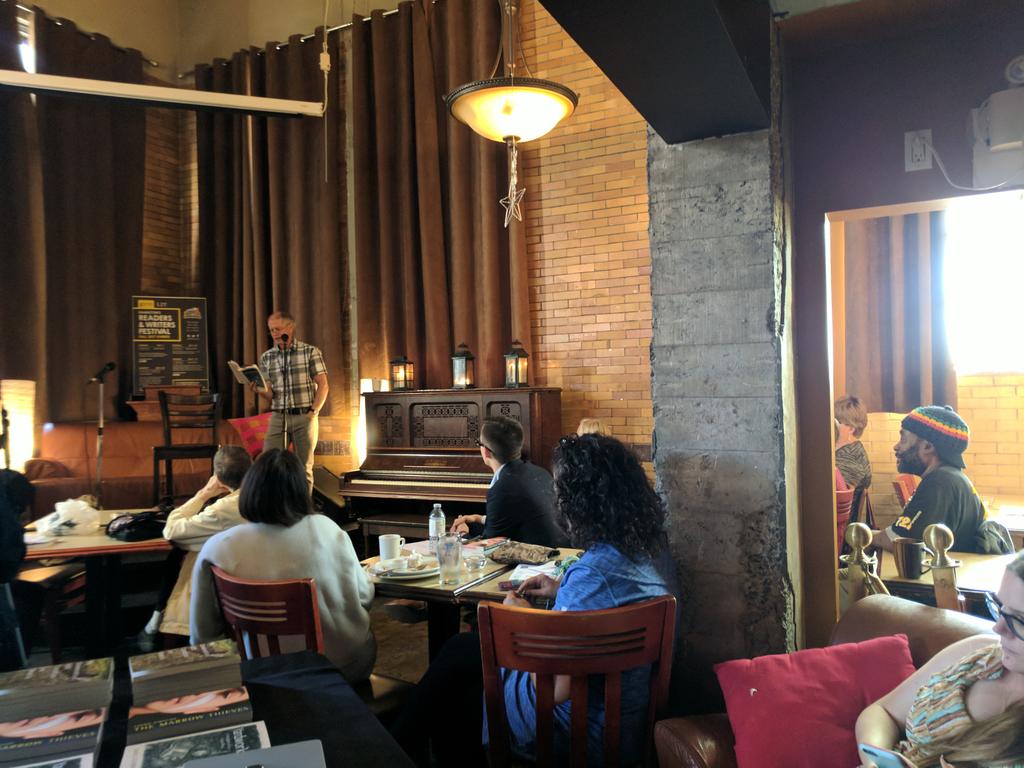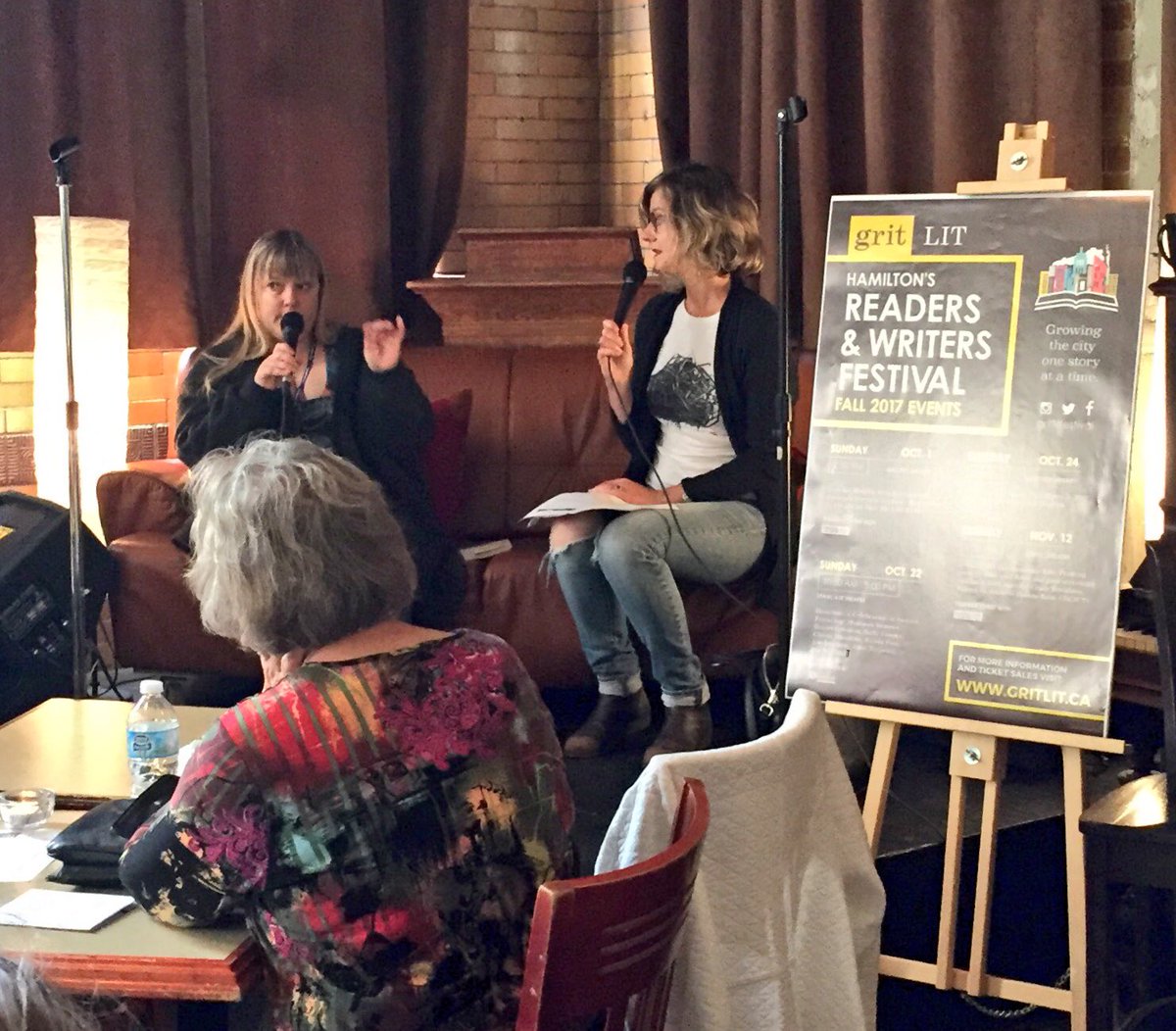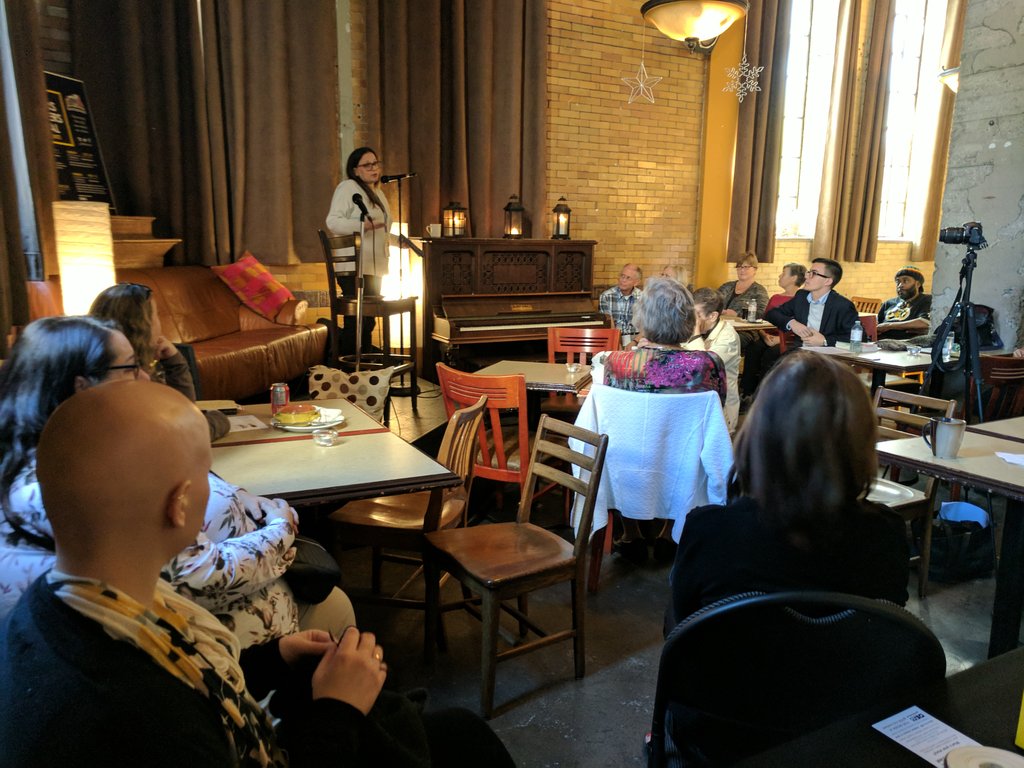 Hamilton: A Celebration in Stories
On Sunday October 22, 2017 at the Staircase Theatre in Hamilton, gritLIT presented readings, interviews and a writing workshop celebrating local authors, themes and indigenous culture. The event featured Shannon Bramer, Daniel Coleman, Sally Cooper, Cherie Dimaline, Krista Foss, Lee Maracle, John Terpstra, and Zoe Whittall, and was supported by the City of Hamilton Canada 150 Fund.
Pictures courtesy: gritLIT, Epic Books, Krista Foss, and Sally Cooper
Hamilton Review of Books Launches Second Issue and Hosts Panel on Criticism, "It's Great and I Like It": What Happened to Criticism?
On Thursday May 25 at The Staircase theatre and cafe in Hamilton, Hamilton Review of Books officially launched its Spring 2017 issue and held a fundraising event that included a panel of writers, reviewers, artists, and academics speaking about the state of criticism today. The panel discussion was moderated by Quill & Quire's review editor, Steven W. Beattie.
With the generous help of our speakers, as well as those who attended the event, we were able to raise enough money to pay our wonderful contributors for our Fall 2017 issue. Thanks to our event partner, Epic Books, to our prize donors, to our panelists, and to our friends and community for being there with us to celebrate.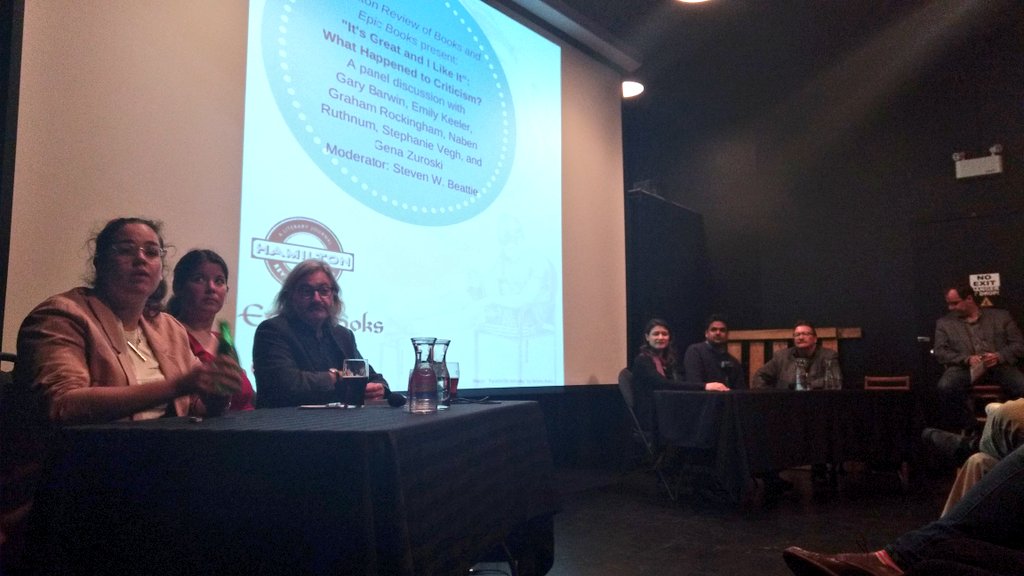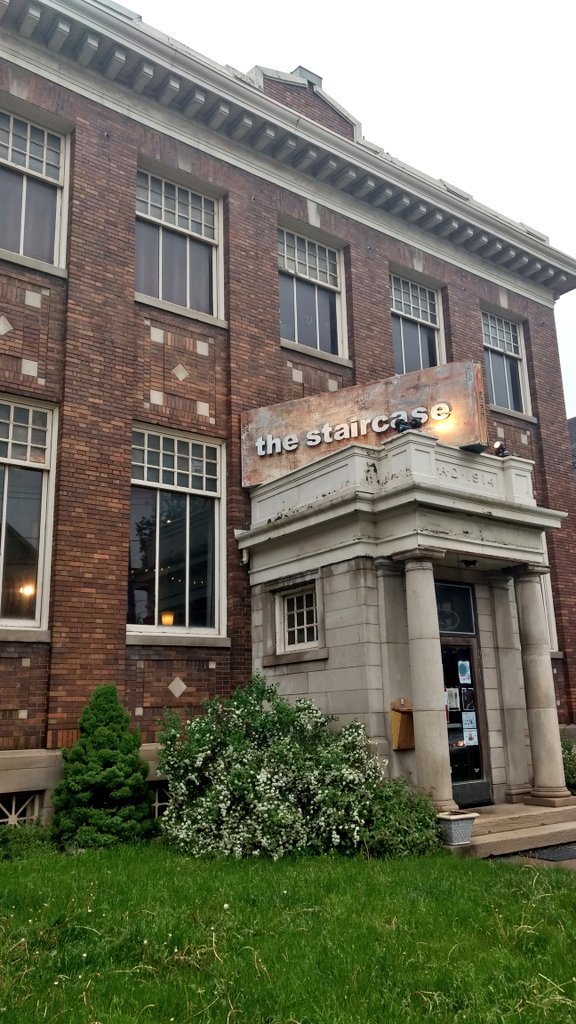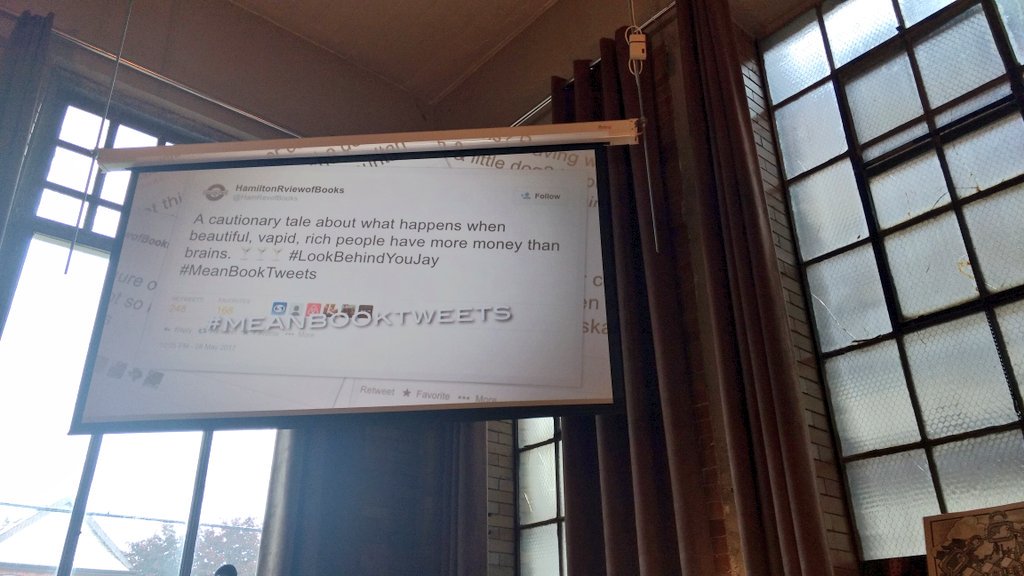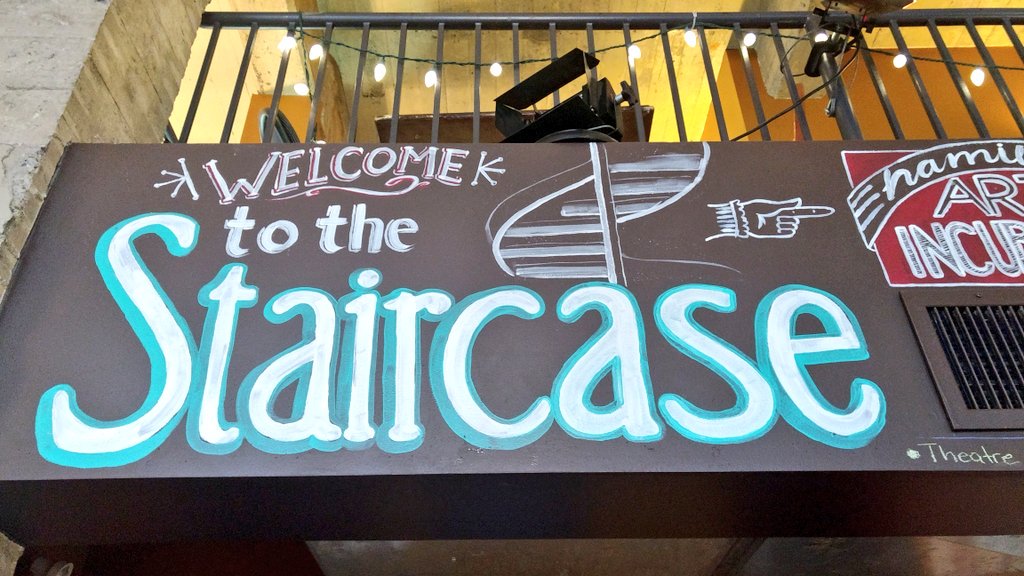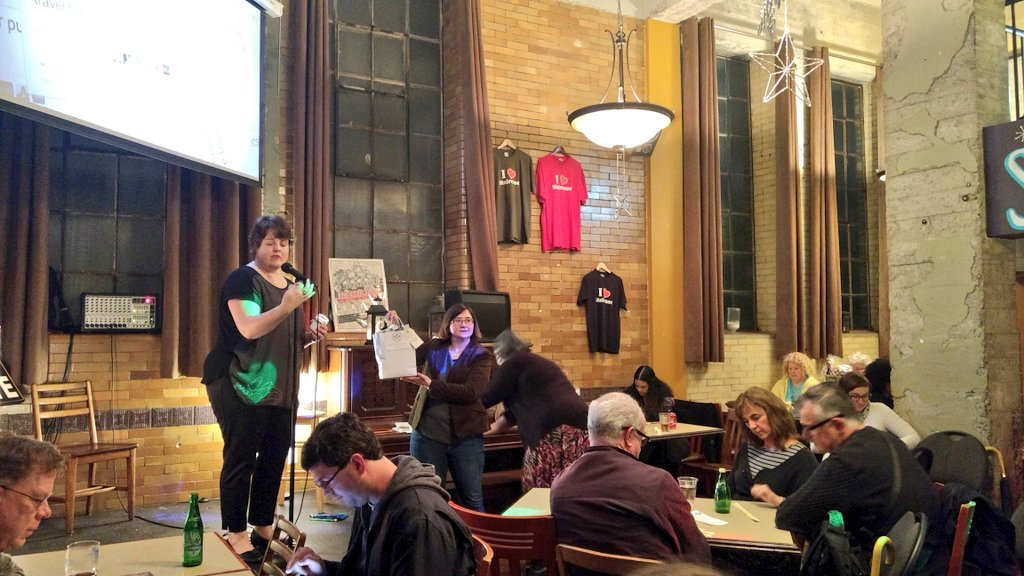 Julia Cooper Launches New Book at Hamilton's Mills Hardware
The Last Word: Reviving the Lost Art of Eulogy is the first book by former Hamiltonian Julia Cooper, who launched the book on May 16, 2017 at Mills Hardware to an intimate crowd. It's also the first book in Coach House Books' Exploded Views series to be edited by Emily M. Keeler, who joined us as a panelist on Thursday for Hamilton Review of Book's second issue launch and fundraiser. The Last Word is a critical look at the act of eulogy, from public mourning on social media in the wake of a celebrity's death to the private, more painful moments when a friend or family member passes away. Bringing together her own experience of her mother's death with a cultural analysis of mourning in the public sphere, Cooper asks readers to look at grief differently.
Shawn Micallef Visits Hamilton's Mixed Media
On Sunday April 30, Shawn Micallef — Toronto Star columnist and a senior editor and co-owner of Spacing — visited Hamilton's Mixed Media to talk about city building, transit, and his most recent book Frontier City: Toronto on the Verge of Greatness. He also spoke about foodie culture and status anxiety through the lens of his 2014 book The Trouble with Brunch: Work, Class and the Pursuit of Leisure, which was published as part of Coach House Books' Exploded Views series. A passionate advocate for cities and urban issues, Micallef is known as a wanderer (and live tweeter) of cities, so his talk fittingly ended with a walking tour of Hamilton's James Street North neighbourhood guided by Dave Kuruc, owner of Mixed Media. The walk featured MacNab Street's rowhouses, the Worker's Arts and Heritage Centre, Christ's Church Cathedral, the new James Street North GO Station, and many stops in between, each encouraging engaging conversation about the neighbourhood's geography, architecture, and arts culture.
Launch of Hamilton Review of Books
On Wednesday November 2, 2016, Hamilton Review of Books officially launched at the Art Gallery of Hamilton's Annex on James Street North. It was an event to remember and we are very thankful to our donors, as well as all who attended, played our Literary Name Game, and helped us continue to support the literary arts in our community and pay our wonderful contributors.
An Evening with Drew Hayden Taylor
On October 20, 2016, Drew Hayden Taylor dropped into Hamilton's Ark & Anchor Espresso Bar for a ticketed event to launch his new short story collection Take us to Your Chief (Douglas & McIntyre), a mash up of old school science fiction tropes and contemporary First Nations settings and issues. Taylor charmed the crowd with his humour, while explaining how science fiction is an ideal form to explore the rich thematic turf of colonialism, identity and stereotype. Ark & Anchor owner and sci-fi aficionado Patrick Guilbault started the evening with a lively interview, followed by a short reading from the title story and question and answers from a rapt crowd. The event was co-organized by Epic Books which in a unique reading series hosted by Ark & Anchor offers readers intimate access to authors for a ticket price that includes a copy of their latest work.